HP Newsroom
Sunridge Foods conducted food trials and sensory evaluations of its existing and upcoming products at College of Tourism & Hotel Management (COTHM).
A per details, Sunridge Foods that is a sister concern of Unity Foods conducted the food trials and sensory evaluations of its products at COTHM in the presence of its expert team. Sunridge GM Projects Muhammad Abu bakr, Sunridge Business Unit Head Syed Kashif Naqvi, Sunridge Head of Sales Syed Salman Nasri, Sunridge Brand Manager Shan e Muhammad, Bulher Company Head of Sales, Pakistan Heiko Jopke, and Ex-Bulher Consultant Marcel along with other team members participated in the food trials. The Sunridge team also met with COTHM CEO Ahmad Shafiq and had a tour of the college.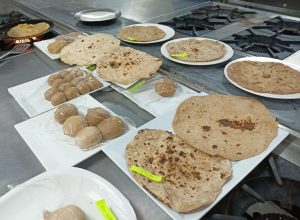 Speaking on the occasion, Heiko Jopke said that Sunridge is doing amazing work in Pakistan and there are a lot more avenues to be explored by Sunridge in future.
Kashif Naqvi said that COTHM's facility is a blessing for food companies as any research and development activity can be done at the state-of-the-art kitchens of COTHM.
Featured
News