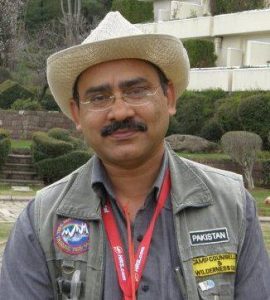 In northern Pakistan, the ancient route of the Silk Road converged among the mighty Karakoram, Himalayas, and Hindukush ranges, connecting China and Central Asia with the Indo-Pak Subcontinent. For thousands of years, travellers, invaders, missionaries, merchants, pilgrims, and artisans from different cultures have entered the region using the legendary Silk Road and its branches. The marks these visitors have left on this land can be seen in the art, culture, knowledge, and social practices of the region to this day. One of the most fascinating remnants of the meeting of civilizations are the ancient rock carvings found among the boulders and cliffs of the region. The sheer diversity of style and symbolism have marked this area as one of the most important centres of ancient petroglyphs in the world!
A region spanning approximately 100 km between Shatial and Raikot Bridge on the KKH contains a vast open-air gallery of ancient rock art. More than 50,000 rock carvings and 5,000 inscriptions have been identified, datable from the 9th century BCE to the 16th century BCE, making some of them nearly 2,900 years old. The carvings show animals, triangular human figures, Buddhist imagery, and hunting scenes – often where the animals are depicted larger than the hunters. The earliest carvings show signs of being carved with stone tools, while the later Buddhist imagery was added using sharp metal tools – a clear indicator of the development of tools and technology in the region.
Recently, a one-week training workshop was jointly organized by STFP and UNSECO Pakistan with the support of Italian Agency for Development Cooperation (AICS) and Tourism Department of Gilgit-Baltistan at Chilas. 26 youth members from local community participated in this training workshop conducted by Mr. Aftab Rana, Mr. Arif Tufail, Ms. Mariam Farooqi and Mr. Fayyaz Ahmed. Dr. Zulfiqar Kalhoro and Dr. Ehsan Ullah also participated as guest speakers and shared their rich knowledge about the rock art heritage along the Karakorum Highway.
This training was part of the initiative of "Engage Community in Safeguarding Heritage through Creative Entrepreneurship, Capacity Building, and Awareness Raising in the area of Gilgit-Baltistan and adjacent of Khyber-Pakhtunkhwa along the Karakorum Highway" having Ancient Rock Carvings being implemented by STFP and UNESCO Pakistan with the support of Italian Agency for Development Cooperation (AICS). The central objective of this intervention is to raise awareness and build capacity of local communities, especially youth, to play an active role in safeguarding the rich rock art heritage. Over 50,000 rock carvings all over this region are covered in ancient rock carvings – such as animals, dancing humans, hunting scenes, stories from Buddha's life and more – all showcasing the lives of people who lived in this region as far back as the 9th millennium BC.
The interventions under this project aim to work with local communities to establish an understanding of the historic value of this region's rich cultural heritage, empower them to safeguard heritage themselves, and establish meaningful linkages for sustainable socio-economic development of the region. This training workshop for tour guides was comprised on procedural knowledge and technical skills which a cultural tourist guide should have to professionally conduct a group of tourists at the rock art heritage sites in the area of Chilas. Through the various sessions participants were provided opportunity to participate in knowledge sharing presentation, group work, practical at rock art sites and demonstration of newly acquired knowledge and skills through role-plays. Now the this group of 26 local youth is ready to serve a tour guides at Chilas and they will be conducing morning and evening rock art sightseeing tour on regular basis.
Along with the training of local community tour guides at Chilas, a one-week training workshop was also organized for the local women at Chilas. The purpose was to build the capacity of local women to learn the art to produce heritage based handicrafts using the centuries old motifs carved on the rocks along River Indus in the area.  STPF's master trainer, Ms. Huma Wasiq conducted this workshop and taught the group of women different techniques and skills for making attractive souvenirs at their homes. 5 local women has been trained as master trainers through this workshop who are now capable to train other women of this area to produce similar handicrafts. Brief history behind Chilas rock carvings, their importance, how these carvings can be beneficial for women were explained along with different types of embroideries & image transfer techniques, stitching, fabric painting and packaging. Chilas Heritage Handicrafts Enterprise has now been formed ant it is now working for the promotion heritage based handicrafts and providing additional income to the local women as part of this sustainable tourism initiative.
The closing ceremony of this training event was held at Shangrila Hotel Chilas on 6th August. Mr. Aziz Jamali, Additional Chief Secretary of Gilgit Baltistan graced the occasion as Chief Guest and Mr. Dildar Malik, Commissioner of Chilas also attended as Guest of Honor. President of STFP in his comments highlighted the rich potential of promotion of rock art heritage tourism in the area of Chilas which has one the largest rock art heritage collections. He informed that this rich rock art heritage is at risk due to vandalism, neglect and lack of understanding of the high potential for this cultural heritage for local socio-economic development opportunities. He emphasized that there is need to protect this high value heritage and efforts should be made to develop an rock art heritage museum and garden as a safe place where most of this heritage could be preserved and presented in a nice form.  He said, it the mission of STFP and UNESCO to support local communities taking ownership of their heritage. He thanked the team of trainers for making this great contribution to significantly bring a positive change among the local community members. He also appreciated the local community youth for taking interest in this initiative and he hoped that this will open gates for them towards better local economic growth. Mr. Jamali and Mr. Dildar in their closing remarks highly appreciated the efforts of STFP and UNESCO to build the capacity of local youth in heritage conservation and sustainable tourism practices.  They assured their full support to promote the rock art heritage tourism in the area of Chilas.
Blogs
Featured