Staff Report
College of Tourism and Hotel Management (COTHM) hosted a grand celebration to mark Hospitality Day, paying tribute to the art of hospitality and recognizing the contributions of professionals in the industry. The event, held at the esteemed COTHM campus, brought together hospitality enthusiasts, industry experts, and students eager to embark on their journey in the field.
Hospitality Day, a globally recognized occasion, is dedicated to acknowledging the significance of the hospitality sector and the efforts put forth by individuals to create memorable experiences for guests. COTHM, known for its exceptional hospitality education and training, took this opportunity to honor the spirit of hospitality and showcase the talents of its students.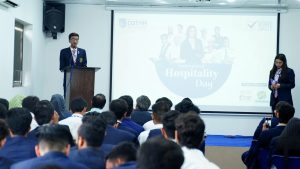 The festivities commenced with an inaugural ceremony. The event kicked off with a warm welcome speech by the college's CEO, highlighting the importance of hospitality and its impact on various sectors of the economy. A series of engaging activities and events were organized throughout the day to engage participants and provide them with a taste of the hospitality industry. The college's state-of-the-art facilities were transformed into interactive zones, showcasing different aspects of the sector.
Muhammad Asad, a student of hospitality at COTHM while speaking at the occasion said,
"Celebrating hospitality day at COTHM was a fantastic opportunity for us to immerse in the spirit of hospitality. Such events must be occasionally held as they not only boost confidence of students but also give them the opportunity to excel in life."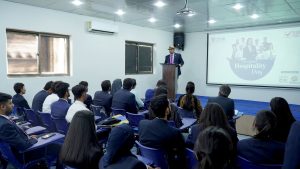 The celebration of Hospitality Day at COTHM concluded with an awards ceremony, recognizing outstanding performers and those who displayed exceptional dedication to the field.
Hospitality Day at COTHM served as a reminder of the vital role played by hospitality professionals in shaping the travel, tourism, and culinary industries. It celebrated their commitment, passion, and unwavering dedication to creating memorable experiences for guests worldwide. With its world-class education and training, COTHM continues to nurture and empower the next generation of hospitality leaders, ensuring the industry's bright future.
News