HP Newsroom
Cheezious; a renowned fast food brand MD Faheem Ashraf and CEO Imran Ejaz visited COTHM. COTHM Chief Executive Officer Ahmed Shafiq introduced them to all teaching faculties in detail. MD Faheem Ashraf and CEO Imran Ejaz also visited the live cooking and baking classes. While interacting with the students, they appreciated their skills in cooking and hospitality.
They also gave useful tips on food safety and hygiene to students and young chefs. While talking to the students, Cheezious MD Faheem Ashraf said that Pakistan has always needed skilled youth and these youth are the asset of this country. CEO Imran Ejaz also encouraged the students to launch a food business and make it successful.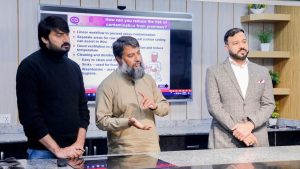 He said that Cheezious is a Pakistani brand and through it, we will provide successful employment to Pakistani youth. During his visit, he said that the facilities in COTHM are of international level. The chefs who graduate from here take care of the principles of hygiene as well as taste in the field as well.
Later COTHM CEO Ahmed Shafiq thanked MD Faheem Ashraf and CEO Imran Ejaz and presented them honorary souvenirs. He also appreciated the Cheezious' services for Pakistan.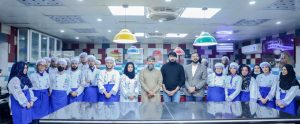 Featured
News