COTHM CEO Ahmad Shafiq inaugurates Cheezious Pakistan's DHA branch in Lahore
by Fraaz Mahmud Kasuri
Proud Pakistani fast food brand Cheezious Pakistan opened its 26th branch in DHA, Lahore on Friday.
As per details, Cheezious Pakistan which has become a leading fast food brand in Pakistan in a very short span of time opened its 26th branch in DHA, Lahore. The new outlet which is located in the FF Sector of DHA is the 3rd branch of Cheezious Pakistan in Lahore.
Renowned hospitality and tourism expert and COTHM Pakistan & Dubai CEO Ahmad Shafiq along with Cheezious Pakistan CEO Imran Ijaz and other friends and fellows inaugurated the state-of-the-art DHA branch followed an amazing Iftar dinner.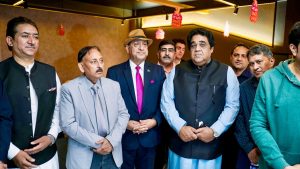 Different social and business personalities including Yum Group Executive Director Nisaar Chaudhry, senior journalist Zulfiqar Rahat, Model Bazar CEO Shahid Qadar, Alkahir Group CEO Muhammad Ahmad, Sohail Ahmad Sheikh, COTHM Joher Town Executive Director Mian Shahid, Sana Durrani, Tariq Javed and many other important personalities attended the event.
All the guests after Iftar dinner visited the kitchen of the restaurant and admired the international-level food safety and hygiene standards being observed within the premises.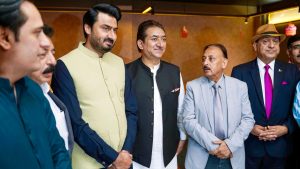 While talking to media, Ahmad Shafiq said "Cheezious Pakistan is the leading fast food brand in Pakistan and it has left all other brands behind within very short span of time. I congratulate Mr. Imran Ijaz and his team upon the opening of Cheezious Pakistan's 26th outlet; it is indeed a great success on the part of the brand itself."
Imran Ijaz while talking to media said "We are indebted to the love Pakistani people have given to Cheezious Pakistan and we would continue to serve the nation with quality food and that also in reasonable prices."
Featured
News