In continuation to the series of different workshop being held with the collaboration of Chocolate Academy Pakistan and College of Tourism and Hotel Management Pakistan, another two-day workshop is being held here at Workshop at COTHM. Today was the first day of workshop. Sri Lanka based international chocolatier and renowned chef Aravinda Leelarathna is training professionals.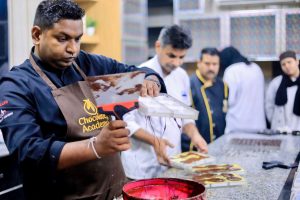 A large number of chefs from different restaurants have participated in this Workshop at COTHM. The session will conclude tomorrow with the display of all the items made today. The chefs under the supervision of Mr. Leelarathna today have made different kinds of chocolates and desserts.
These include Tourbillon (Pina Colada Cake), Raspberry Jelly with Rose Mousse & Pistachio Crumble in Shooters, Chocolate Pot De Crème in Shooters, The Planet Chocolate Travel Cake (world chocolate masters), Caraple Cale, Chocolate & Cherry Cake, Milk Chocolate and Banana Cake, Tiramisu Tart, Mango Jelly with Coconut Blue Pea Mousse Cake, Orange Baba with Vanilla Chantilly in Shooters.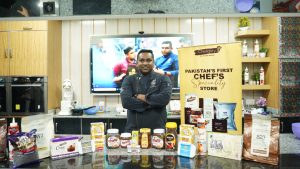 Featured
News