Press Release
A consultative workshop on enhancing B2B Linkages to promote tourism between Pakistan and China was held on 06-09-2021 in the conference room of Pakistan Tourism Development Corporation (PTDC). The meeting was chaired by Aftab Ur Rehman Rana, Managing Director, PTDC and attended by all the key stakeholders and representatives from different departments and organizations including Zhang Heqing, Cultural Counselor/Director, China Cultural Center in Pakistan, Zulfiqar Ali, Second Secretary, Pakistan Embassy at Beijing China, Rizwan Gul, Director-China, Ministry of Foreign Affairs, Salman Javed Former MD of PTDC and Chair of FPCCI Committee on Tourism, Muhammad Tanvir Jabbar, MD Tourism Development Corporation of Punjab, Muhammad Ali Khosa, MD Sindh Tourism Development Corporation, Moshin Shahid Focal Person of Department of Tourism Balochistan, Hayat Ali Shah General Manager P&D, KP Tourism Authority, Sajid Hussain, Deputy Director, Gilgit Baltistan Tourism Department, Ali Raza, Executive Director, COTHM, Asghar Ali, Vice President of Pakistan Association of Tour Operators (PATO) GB Chapter, Saddar ud Din Hunza, General Secretary, PATO, Azmat Awan, VP PATO, Islamabad Chapter, Muhammad Umar, Joint Secretary, PATO, Sadaf Khalid, Director, Walnut Travel & Tour Consultancy Pvt Ltd, Hina Nisar Saddozai, CEO, Lexicon Leisure, Salahudin, Senior Manager, Travel Waljis, Shahid Peracha, CEO, City Express Travels & Tours and officials of PTDC's Marking Department.
A brief presentation was delivered by MD, PTDC in which he highlighted the main areas of improvement to enhance the B2B linkages between Pakistan and China. Later on, the participants discussed the importance of tourists visa facilitation on both sides of Pak-China Boarder to promote two-way tourist traffic, cost effective air connectivity between Pakistan and China, exchange of tourism professionals from public and private sectors to mutually understand each other's tourism markets and enhance B2B linkages, development of tourism promotional material in Chinese language, improvement in security situation, and the establishment of tourism economic zones along CPEC to develop quality tourist infrastructure focusing on the principles of sustainable tourism development.
Zhang Heqing, Cultural Counselor/Director, China Culture Center in Pakistan, China Embassy appreciated the efforts of PTDC to organize such a great and meaningful event to promote tourism between China and Pakistan. He stated that China and Pakistan are celebrating 70th Anniversary of establishment of diplomatic relations this year. This relationship was built on the strength of successive achievements and becomes formidable with each passing day and year. The leadership of both countries is committed to taking this relationship forward.
Furthermore, Zhang Heqing discussed that Gilgit Baltistan is the hub of tourism industry in Pakistan and attracts millions of local and foreign tourists. Tourism is an important industry that will also see immense boost as a result of CPEC's progress in Pakistan. China and Pakistan can exploit the potential advantages of the tourism resources in the regions along the China-Pakistan Economic Corridor, especially the China-Pakistan border areas. It will help the residents along the coastal tourism belt shake off poverty, promote the development and construction of cross-border tourist routes along the railways and highways.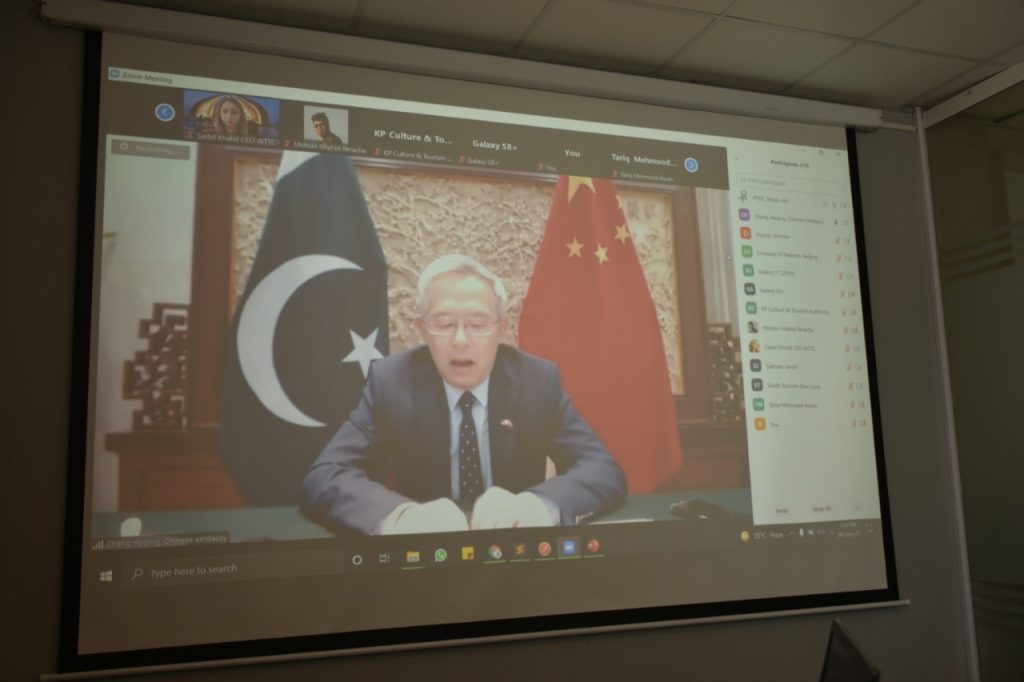 All the participants highly appreciated this effort and shared their feedback to improve the business to business linkage between Pakistan and China. Representatives of PATO highlighted the potential that is available to be utilized if both countries create an enabling business environment for tourism on both sides of the boarder and ease the visa formalities to increase the two-way traffic of tourists. Zulfiqar Ali highlighted various efforts which are being made by Pak Embassy at Beijing to build the image of Pakistan as tourist destination in the Chinese market. Representatives of provincial tourism organizations also participated in the discussion and shared their input and suggestions.
Aftab ur Rehman Rana thanked all the participants of the workshop and informed that PTDC will continue its work with China Culture Centre to get more insight on tourism from China and better underdoing of Chinese tourists market. He added that this cooperation will go a long way and today's discussion will help to develop a first ever draft strategy paper on "Enhancing B2B Linkages to Promote Tourism between Pakistan and China".
Featured
News