College of Tourism and Hotel Management (cothm bags), having more feathers in its cap, has bagged two awards in the categories of "Best Hospitality College" and "Best Culinary College" in 16th Consumer Choice Award 2022-23.
The 16th Consumer Choice Award ceremony was organized by Consumer Association of Pakistan at a local hotel in Karachi where awards were given in recognition of the best product manufacturers and best service providers in various sectors.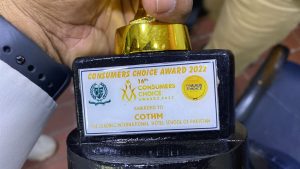 Provincial Minister for Labor and Men-power Saeed Ghani, Administrator Karachi Murtaza Wahab, MQM Pakistan leader Khawaja Izhar-ul-Hasan, prominent industrialist Mirza Ishtiaq Baig were present in the ceremony.
The host of the event, Kokab Iqbal, Professor Dr. Farhan Isa Abdullah, renowned model Nadia Hussain, Mian Zahid Hussain, and other political and social personalities participated in large numbers.
COTHM Karachi executive director Mr. Sabir Ahmad received the awards. He welcomed the organization of the event and said that providing motivation in this way motivated him to improve the quality of education.
Saeed Ghani lauding initiative of Consumer Choice Award Pakistan said such events play a vital role to encourage people who are doing incredible work in their respective fields and are working for betterment of society. He praised efforts of all political parties and welfare organizations who are continuously aiding flood affected people in country.
S.M.Muneer praised Chairman Consumer Choice Award Kaukab Iqbal for his active role towards creating awareness among people regarding consumer rights. He said it is a good omen that Consumer Courts re-working across country where grievances of customers are handled and resolved with right attention.
S M Muneer assured his full support to Consumer Choice Award in future as well. Chairman Consumer Choice Award said, "16 years back, we took this initiative to recognize success of various individuals and businesses across board from diversified fields and entire Consumer Choice Award team work day in and day out to make this event a sure shot success."
Kaukab said that Pakistan is facing worst level of floods which has captured attention of entire world. He also urged people help countrymen in time of this natural calamity and cothm bags. Consumer Choice Awards event is highly inclined towards creating maximum awareness among masses regarding right promotion of consumerism in Pakistan. Cake-cutting ceremony was held. Award winners thanked Consumer Choice Award management for recognising their achievements at such a big platform which is a strong source of motivation for everyone.
The event was attended by more than 500 business tycoons in the presence of massive media coverage.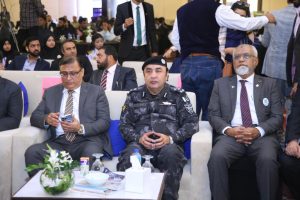 Featured
News