HP Newsroom
On November 3, 2023, the College of Tourism & Hotel Management (COTHM) International hosted a jubilant celebration in honor of International Sandwich Day. The event, aimed at fostering culinary innovation and expertise among students, witnessed an incredible turnout of enthusiastic participants who showcased their talent in the art of sandwich making.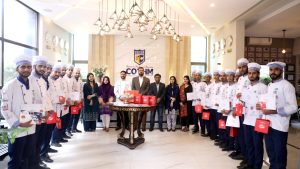 The event was a huge success, drawing in a large number of students eager to display their culinary prowess. The atmosphere was electric with creativity as students crafted an array of delectable sandwiches, each a unique testament to their skill and imagination.
KnN's and Dawn Bread stood as proud activity partners, providing essential support and resources that contributed to the event's success. Their commitment to promoting culinary excellence was evident in the seamless execution of the activities throughout the day.
One of the highlights of the event was the involvement of Benediction Restaurant as an industry partner. Their presence added a professional touch to the occasion, offering students exciting deals and offers at their premises.
The sandwich making competition was not only a platform for students to exhibit their talents but also an opportunity to learn from industry experts. It showcased the incredible potential within the culinary arts and highlighted the dedication of COTHM International towards nurturing future culinary professionals.
Featured
News