HP Newsroom
The College of Tourism and Hotel Management (COTHM) has set the stage for a spectacular culinary showdown at the 18th International Food, Beverage, and Hospitality Technology Exhibition (Iftech). The three-day event, running from September 7th to 9th, 2023, promises to be a feast for the senses as it showcases the exceptional culinary skills of students from the Departments of Culinary Arts and Baking & Patisserie. This culinary extravaganza is divided into six thrilling categories, offering a platform for young talents to shine.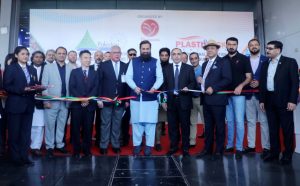 The inaugural day of Iftech 2023 was marked by a distinguished guest, Punjab Governor Baligh ur Rehman, who graced the occasion with his presence. The esteemed guest paid a visit to COTHM's stall, accompanied by COTHM Founder/CEO & President Ahmad Shafiq. The event was also attended by COTHM COO Zaheer Ahmad, Cheezious CEO Imran Ijaz, Asia Dye Tech CEO Abdul Mateen Chughtai, COTHM Johar Town Executive Director Mian Shahid, COTHM Registrar Muhammad Jamil, and COTHM Director of Media & Marketing Fraaz Kasuri.
Governor Baligh ur Rehman took the opportunity to interact with the participating students, praising their dedication and passion for the culinary arts. He encouraged them to continue their pursuit of excellence in this field, emphasizing the importance of their role in shaping the future of Pakistan. The governor also commended COTHM for its tireless efforts in producing a skilled workforce that contributes to the nation's prosperity.
Speaking to the media during the event, COTHM CEO Ahmad Shafiq reaffirmed the institution's commitment to training and nurturing the next generation of culinary talents in Pakistan. He highlighted COTHM's role in empowering young minds and expressed the college's dedication to fostering a brighter future for the country.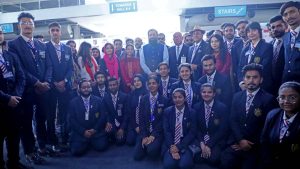 This extraordinary culinary championship is made possible through the generous support of its sponsors. The culinary championship is powered by KnN's, Asia Dye Tech, and Ambassador Commercial Kitchen Equipment, leading names in the industry. Shan Foods, a renowned spice brand, has joined as the Spice Partner, while Milky's, a prominent beverage company, is the official Beverage Partner.
About COTHM:
The College of Tourism and Hotel Management (COTHM) is a leading international institution dedicated to providing quality education and training in the fields of hospitality, tourism, culinary arts, and management. With a commitment to producing skilled professionals for the hospitality industry, COTHM has established itself as a pioneer in culinary education and vocational training.
Featured
News