College of Tourism & Hotel Management (COTHM) Pakistan & Dubai in collaboration with Kinnaird College for Women University (KCWU) organized a food safety Certification Awarding Ceremony for the successful pass outs of Department of Food & Nutrition Sciences who got their 'Level 2 Award in Food Safety for Manufacturing' from Internationally recognised awarding body Highfield UK the other day at Hladia Hall of Kinnaird College.
COTHM COO Zaheer Ahmad, KCWU Vice Principal Prof. Dr. Nikhat Khan and Department of Food Nutrition HOD Dr. Mahnaz Nasir Khan distributed certificates among the successful pass outs along with the senior faculty members from both sides.
It is pertinent to mention here that all the participants of the training program were trained at COTHM.
While talking to the participants, Ahmad Zaheer said that hygiene studies must be incorporated in the culinary programs at all levels. He further said that COTHM and KCWU would continue to spread awareness regarding food safety certificate and hygiene manners in future as well.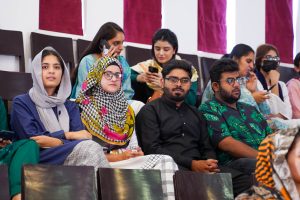 Featured
News