College of Tourism & Hotel Management (COTHM) students have congratulated Sri Lanka-based international chocolatier and renowned Pastry Chef Aravinda Leelarathna upon the success of Sri Lankan Cricket team in T20 Asia Cup Final where Pakistani and Sri Lankan chocolatier teams played against each other.
The students not only congratulated him but also chanted the slogans "Pakistan Sri Lanka Friendship Zindabad". Aravinda thanked the students and said that the Sri Lankan nation has also the same sentiments for Pakistan and Pakistanis.
Chef Aravinda is on a 10 days tour to Pakistan to conduct international workshops on chocolate and desserts. He has visited Pakistan on the invitation of  Sri Lankan Chocolatier Academy Pakistan and COTHM. In Chocolate Academy, he will conduct different sessions and train professionals and young chocolatiers in chocolate and dessert making skills.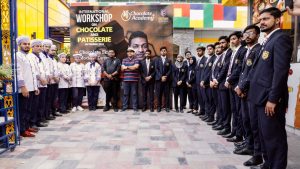 Featured
News