HP News Room
The first international flight from Skardu, Pakistan, to Dubai took off on August 23, 2023 making the mountainous Gilgit-Baltistan (G-B) region more accessible to foreign travelers.
The flight, operated by Pakistan International Airlines (PIA), departed from Skardu Airport at 10:00 AM local time and arrived in Dubai at 1:00 PM local time. The flight was carrying 160 passengers, including tourists, business travelers, and government officials.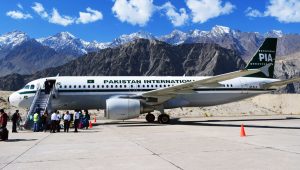 The establishment of direct flights between Skardu and Dubai is a major milestone for Pakistan's tourism industry. Skardu is a popular destination for hiking, trekking, and mountaineering, and the new flights will make it easier for international travelers to visit the region.
The flight was a smooth operation, and the passengers were happy with the service. The Federal Investigation Agency (FIA) staff at the airport efficiently handled the passengers' immigration process, contributing to a seamless travel experience.
The Skardu International Airport, which was inaugurated in December 2021, has played a pivotal role in facilitating this new route. The airport is equipped with modern facilities and can handle large aircraft.
Featured
News