HP News Desk
Ambassador of Indonesia to Pakistan His Excellency Adam M. Tugio opened the Indonesian Culinary Workshop at the College of Tourism & Hotel Management (COTHM) Islamabad on September 20, 2022. Director Fauji supreme Mr. Faad Waheed also attended the workshop. The   team from Fauji Supreme was available to provide information to students about their brand and products.
Indonesian Chef Budiono cooked Indonesian Cuisine. He was quick in making students familiar with the Indonesian cooking methods. COTHM CEO Mr. Ahmad Shafiq expressed his appreciation to the Indonesian Embassy in Islamabad for giving students the opportunity to learn about Indonesian culinary workshop and expressed hope to build cooperation between COTHM & Indonesian vocational institutions in the hospitality and service sector.
Students of different batches participated in workshop and cooked Indonesian cuisine. H.E also mingled with the students and shared the scope of Tourism and Hospitality in Pakistan, Indonesia and rest of the world.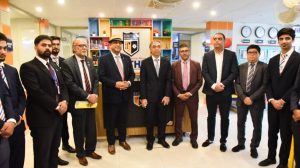 Featured
News