Staff Report
Lahore restaurants Association (LRA)'s efforts have resulted in big relief for restaurants and cafes. As per details, Lahore Restaurants Association (LRA) had filed a petition in the court against restaurant timings. The court has now ordered and allowed restaurants to serve till 11:00 pm while delivery and take away are allowed till 12:30 am.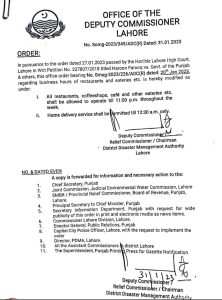 Before this, the restaurants were allowed to serve only till 10:00 pm from Monday to Thursday and till 11: 00 pm from Friday to Sunday while delivery and take away were also not allowed.
LRA Secretary General Ahmad Shafiq while talking to Hospitality Plus said that restaurants are the main source of revenue collection for the government. This relief in time will not only increase revenue for the government but will also be a sigh of relief for the hospitality industry which is already affected by the Covid.
Featured
News