HP Newsroom
Punjab Food Authority Director General Raja Jahangir Anwar appreciated the international level facilities and standards at College of Tourism and Hotel Management (COTHM) during his today's visit.
COTHM CEO Ahmad Shafiq gave him a tour to COTHM's all departments and teaching facilities. He also briefed him about different courses offered at COTHM and told him about COTHM graduates working in different airlines across the world.
DG also visited live cooking and baking classes. During his interaction with students, he appreciated their skills and expertise in cooking and hospitality management. Anwar also gave students and young chefs useful tips regarding food safety and hygiene. He said, "You are the warriors of kitchen. Never compromise on quality and always try to provide the best and healthy food to the customer. No matter, how much it costs but quality standards must be followed."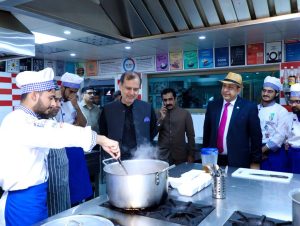 It is your responsibility to take care of nutritional value of food; he further said adding that provision of healthy food from your side will also lessen the rush in hospitals as many diseases are caused due to low quality food.
Anwar also visited Chocolate Academy and Diet Studio. In Chocolate Academy, its CEO, Zainab Shafiq briefed him about different courses and workshops offered at Chocolate Academy for young children and adults.
The food industry has much more potential to grow. PFA stands with those hotels, restaurants and food companies which are following food safety standards and always keep a check on quality control, Anwar said.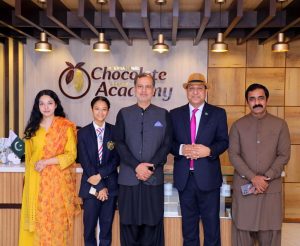 Anwar expressed his views by saying that Punjab Food Authority will also make it necessary for hotels and restaurants that their staff and chefs must be aware of allergens and have complete knowledge about it. It will be made compulsory for restaurants to make Food Safety level 3 training compulsory for their chefs.
In the last, he thanked COTHM CEO Ahmad Shafiq for inviting him to visit.
Featured
News
Uncategorized