Ramzan was the month when all the eateries out there were offering something best they could but one name that was high in the market was Villa – The Grand Buffet. So we decided to review the restaurant for our May edition to know why it has got so much hype especially in Ramzan. I and my wife with our three years old twins reserved a table for two for Suhoor. There were two slots for Sehri Buffet one was from 12:15am till 01:45am and the second one was from 2:00am till 3:30am; we picked the first one. We reached the restaurant on time and people were already pouring in. After handing the car over to valet parking boys, we stepped in and got our table in the open area as all the seats were booked inside.
Had a quick glance on the menu and that was comprising of welcome drinks including salty and sweet lassi, soups, fresh fruit bar, parafait bar, bread station, homemade jam, butter & cheese, desi feast, egg station, pancakes & waffles, live French toast bar, live chocolate fountain, desi desserts, hot beverages.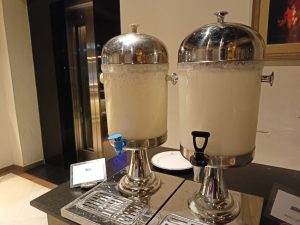 As it was Sehri time, we went for desi feast first and had chicken and beaf nihari but in little chunks as an ocean of food items was beholding to us. With the food, we tried wonderful homemade jams, sauces and three types of yogurt. From egg station, we enjoyed wonderful eggs with live paratha pieces along with the sips of wonderful karak Nescafe chai. Then we moved on to fresh fruit bar to have Ramzan essential fruits i.e. melon and watermelon; that we had to our fill. After that, just to have a taste of all the snacking items, we walked along the buffet stations items and tasted some of the good looking food items. Our kids loved the live chocolate fountain and enjoyed the chocolate with different food items.
One thing that we notably noticed was the interior setting of the restaurant; it was delightfully designed with some modern rustic touch. Overall, it was a wonderful experience at Villa – The Grand Buffet as food and ambiance both were actually enjoyable.
Featured
Reviews