HP Newsroom
Star of COTHM and a celebrity chef in the USA, Rubina Qadeem Khan visited her college after years on Thursday. She was warmly welcomed by COTHM CEO Ahmad Shafiq, and Director of International Development Baber Sheikh. She was also awarded with the Shield of Honor. She has been a student at COTHM from 2005 to 2006, where she graduated with a degree in culinary arts. She is from Chitral Pakistan, but now lives in USA, where she is a celebrity chef and an entrepreneur. She is married and has two beautiful daughters.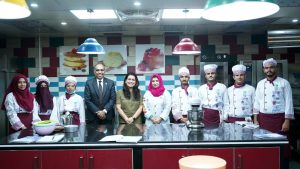 COTHM CEO Ahmad Shafiq appreciated her for making Pakistan proud Internationally. She is on a visit to Pakistan, and she was excited to visit her college and reminisce about the time she spent at COTHM. She visited the entire college and was amazed to see the progress that COTHM has made. She was very happy to watch the students taking classes from the chefs.
She talked to the students, shared her field experience, and advised them to learn the basics of cooking. She also said that they should work on their communication skills, which will help them in the future to communicate with people.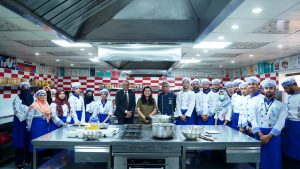 She motivated the students with her experience and said to dream big and make extraordinary effort to get extraordinary reward. Pakistani chefs have the potential to reach on top, they just need to work hard and smart.
Featured
News