HP News Desk
To train young chocolatiers and professionals in the art of Chocolate making, and the modern developments and techniques used in chocolate making, a two-day dessert workshop was organized at Chocolate Academy Pakistan. The workshop ended today with wonderful display of desserts and pastries Two day workshop at Chocolate Academy Pakistan.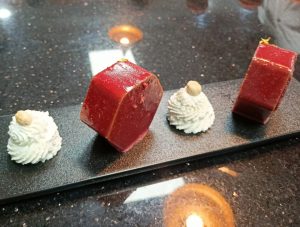 International chocolatier and renowned Sri Lanka based chef Arvinda Leelarathna on the invitation of Chocolate Academy and College of Tourism and Hotel Management (COTHM) has come to Pakistan to conduct a series of dessert and chocolate workshops at Chocolate Academy. He has brought with him the new molds and machines used in chocolate making. This workshop was also conducted under his supervision. Chef Faiza Iqbal and Chef Razzaq were co-supervisors to Mr. Rathna.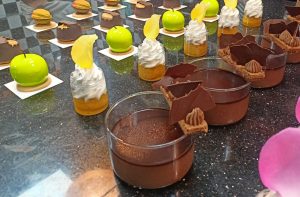 In closing ceremony of the workshop, students and professionals in Two day workshop at Chocolate Academy displayed different chocolates and pastries made under the supervision of Chef Arvinda Leelarathna. The names of items displayed include Tiramisu Tart, Pina colada cake (Tourbillion), Raspberry jelly with rose mousse & pistachio crumble (in shooters), Orange baba with vanilla Chantilly, Chocolate pot de cream, The Planet (Travel Cake WCM 2018), Mango jelly with Coconut Blue pea mousse cake, Milk Chocolate & Banana Cak, Chocolate and cherry cake, Raspberry jelly with rose mousse & pistachio crumble (in shooters), Caramelized Apples with Caramel Mousse Cake.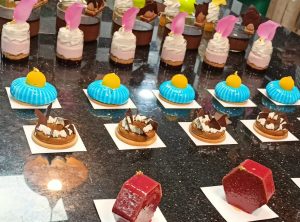 Mr. Fahad from Rina's Kitchennette, Farmers Chees Making owner Mr. Imran and Farmers Cheese Making brand manager Miss Sana Khan and the owner of Masooms miss Nadia Zaidi were also invited to see the display. The guests highly appreciated the art and skills of Chef Arvinda Leelarathna and also praised the effort of students and professionals in making the wonderful display of chocolates and desserts. They said that this workshop will be helpful in developing the culture of baking and patisserie in Pakistan. It will train new chefs and bakers thus helping them in improving their professional ability.
Featured