HP Newsroom
Unilever Food Solutions, a renowned food company operating worldwide, is a big player in Pakistan's HORECA sector as well. The company encourages the activities based on food and cooking whenever and wherever needed for the better interest of food sector on the whole.
College of Tourism & Hotel Management (COTHM) arranged its inter-campuses competitions at Iftech Exhibition held at the Expo Center, Lahore and Unilever Food Solutions sponsored the competitions for the encouragement of the young chefs participating in the event. The competitions were held in multiple categories which were 3-Course Modern Pakistani Cuisine, Drinks/Smoothies, Live Cake Decoration – Free Style, Product Innovation, Pasta Dish, and Chinese Main Dish.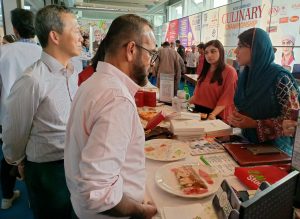 Unilever's South East Asia Lead Ivan Lu, Unilever Pakistan Country Head Sajjad Akbar, Marketing Lead Umer Waqar, GSM Amir Tagar, and Operator Marketeer Nida Hasan visited the competitions, talked to the participants and appreciated their culinary skills.
Featured
News