HP News Desk
Byram Dinshawji Avari; Chairman Avari Group, a well-known businessman and athlete passed away on Sunday at the age of 81 in Karachi.
Avari had surgery a few days previously at a private hospital in the city, but his family claims that after his condition worsened, doctors placed him on a ventilator. He passed away in the hospital, while he was in critical condition. His funeral ceremonies will be held today at Karachi.
The seasoned businessman won two gold medals in the Asian Games' sailing competition. Avari's first gold medal came from sailing with Munir Sadiq in 1978, and his second came from competing with his wife Goshpi in 1982.
He oversaw the Avari Group as chairman. The company is the owner of Avari hotels, which include the five-star Avari Towers and the beachfront Beach Luxury Hotel in Karachi.
In other parts of Pakistan, the business is actively looking for chances to own and manage three- and four-star hotels.
The Avari Group was the first Pakistani business to secure contracts to run hotels abroad. They currently manage the 200-room Ramada Inn in Toronto at Pearson Airport in Canada and the 200-room four-star hotel in Dubai.
Politicians, athletes, and members of the business world paid tribute to Avari after his passing. Murad Ali Shah, the chief minister of Sindh, stated in his message that Avari's contributions to the nation and his people will never be forgotten.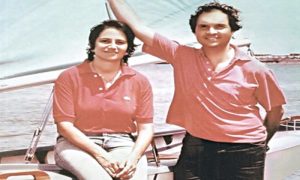 Featured
News