HP Newsroom
College of Tourism and Hotel Management (COTHM) and Enablers have signed a memorandum of understanding to strengthen collaboration between the two institutions mainly focusing on skill development, entrepreneurship and youth employment.
The MoU was signed by COTHM CEO Ahmad Shafique and Enablers CEO Saqib Azhar here on Monday at COTHM head office. Under the MoU, both the organization will work together for mutual goals. They will not only focus on skill development in youth but also on education, training and personal development leading them to economic empowerment and social uplift. Both the organizations will now share their knowledge and expertise to develop educational programs in view of the needs of the employers locally and internationally. They will mutually conduct research for creating an entrepreneurial mindset in the youth.
COTHM CEO Ahmad Shafiq while talking on the occasion said that culinary and hospitality graduates will now be able to digitalize their startups as per the modern needs and requirements. Enablers CEO Saqib Azhar said that this MoU will bear fruitful results for Pakistani youth. "Now, there will be new avenues for youth entrepreneurship in the fields of hospitality and tourism. Our youth will be more skilled and be able to compete the job market and world", he added.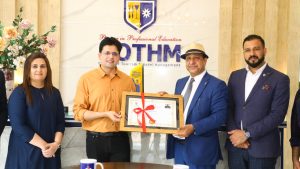 Featured
News