The survey in hand on customer preferences towards the Customer preferences in restaurant industry of Pakistan is an effort to measure the customer preferences and current status of customer loyalty in the restaurant industry of Pakistan.
It tries to measure the preferences of the educated societal class which is the direct customer of the restaurants and is also backed by the purchasing power. Nowadays, customers have a lot of choices because of the availability of a large number of food outlets/restaurants, so entrepreneurs may also seek help from this survey to know the current status of loyalty among the customers.
Researchers can also utilize this survey for further investigations on customer preferences and customer loyalty as it involves a process of either developing a general opinion or confirming an already existing preference. An online questionnaire was used to collect responses for this survey. At least 132 responses in total were gathered from different customers of the restaurants all across Pakistan.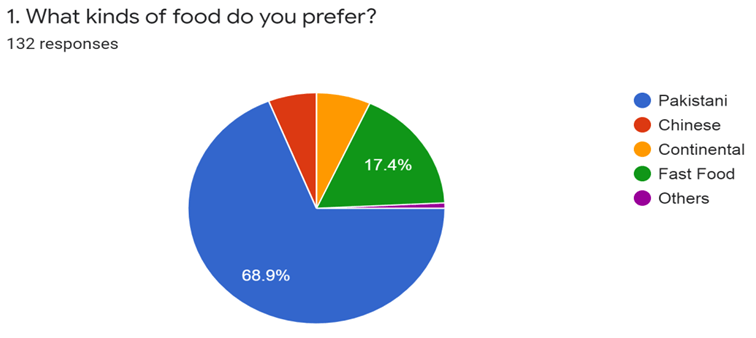 The eating out preferences got exciting responses from the customers. The results showed that the trend of traditional Pakistani food taking a clear edge with 68.9% over other preferences, while 17.4% people showed their interest for fast food whereas 13.7% for Chinese, Continental and others. This category highlights that customers in Pakistan still prefer Pakistani food that gives a direction to the entrepreneurs and for existing restaurants on customers' food preferences.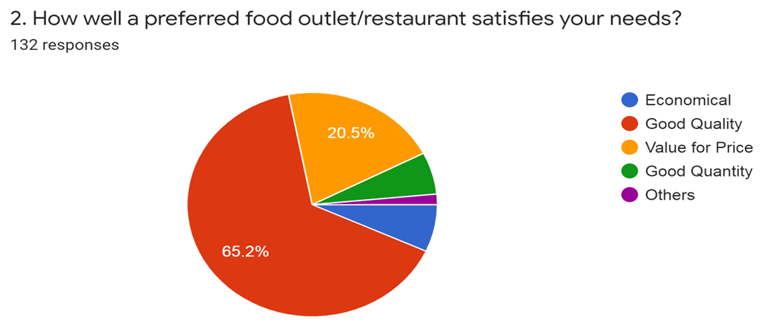 65.2% customers preferred good quality of food as a core attribute of any restaurant. 20.5% customers selected value for price as their second reason for selection and 14.3% voted in favor of economical food with good quantity. Results of this category clearly indicates that the restaurants should focus on good quality in order to get maximum response from the customers. The result also explore the value-added benefits for selecting any food outlet/ restaurant other than food attributes.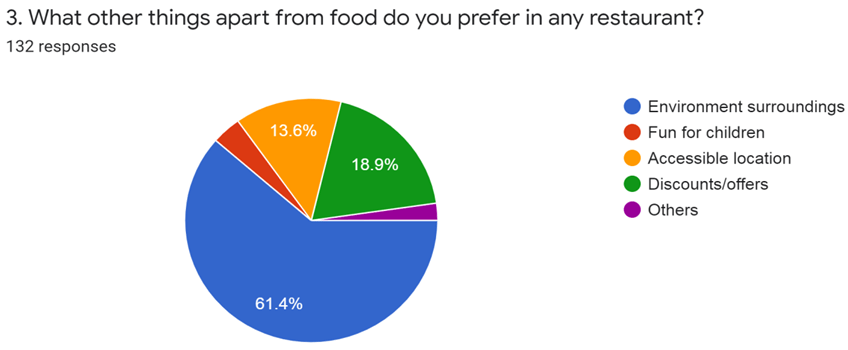 With respect to value-added benefits, 61.4% gave weightage to environmental surroundings, 18.9% showed their interest for discounts/offers, 13.6% preferred accessible locations of restaurants, whereas fun for children and other benefits collectively got 6.1% rating. Restaurants must consider creating a good environment to get maximum results.

In terms of customer loyalty towards the restaurants in Pakistan, there are only 11.4% customers loyal to specific restaurants, 30.3% customers fond of new restaurants and 58.3% customers seldom try other restaurants. The results clearly highlight that restaurants in Pakistan have failed to create loyalty among customers. They should focus on different factors to enhance customer loyalty in restaurants.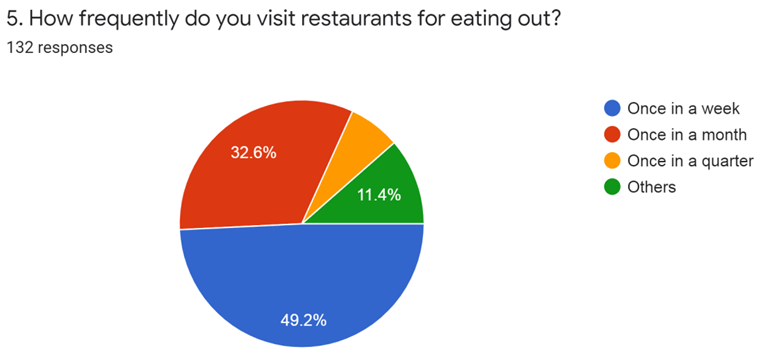 The survey revealed that 49.2% of respondents used to visit restaurants once in a week, 32.6% of respondents went for eating out once in a month whereas 6.8% visit restaurants once in a quarter and the remaining 11.4% rate for others. The result of this survey highlights the opportunities for the restaurants that almost half of the respondents prefer to visit once a week.
With respect to average expenditure per month by the respondents on eating out, the survey revealed that 40.9% of respondents spent between Rs 5,000 to Rs 10,000 on eating out, 30.3% spent less than Rs 5,000 on eating out, 13.6% spent between Rs 10,000 to Rs 15,000- whereas 9.1% spent above Rs 25,000 and 6.1% spent between Rs 15,000 to Rs 20,000/- per month on eating out.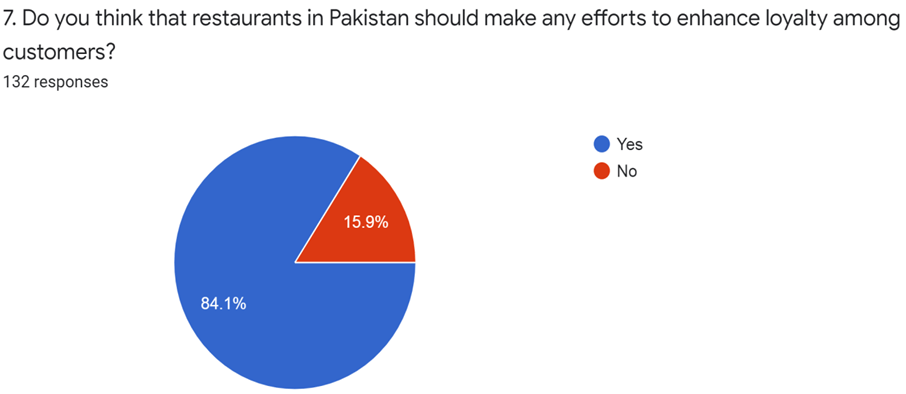 84.1% respondents believe that restaurants in Pakistan should take some steps or consideration to make some efforts to increase the customer loyalty. On the other hand, 15.9% of respondents believe against it. The result highlights that currently restaurants in Pakistan are not doing any efforts to retain their customers or to make them loyal to them.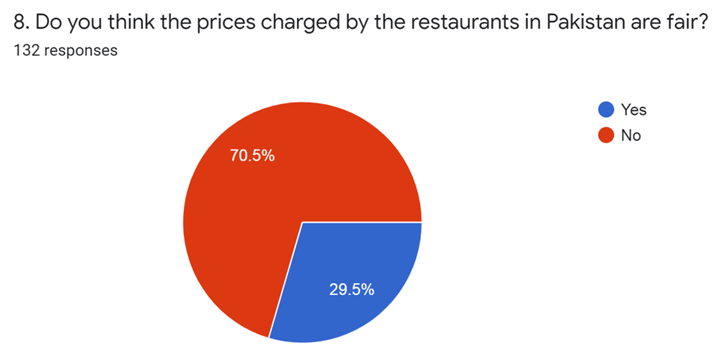 In terms of price fairness, 70.5% respondents believe that the restaurants in Pakistan are not charging fair prices. On the other hand, 29.5% believe that restaurants are charging fair prices. The results clearly indicate that restaurants in Pakistan are charging unfair prices or they have failed to make their customer realize that the price they have charged is fair.
The results of the survey reflect that food businesses are growing in the country and this industry keeps a high potential for investment. The general change in eating habits urges the investors to invest in quality food businesses. While having strong potential in the food business, there are certain parameters that set criteria for success. The high concerns for quality, value for price and being economical make it necessary for food business operators to take special care in these areas. The food business operators also need to invest in some value-added benefits like environmental surroundings, discounts/offers and accessible locations.
The survey also reveals that the customers seldom try other restaurants that shows that food businesses are not making efforts to enhance customer loyalty. Restaurant owners must know the fact that price fairness helps increase customer satisfaction and it furthers customer loyalty as well. It is highly recommended that the food business operators need to work on price fairness and to build a loyalty based marketing strategy in order to meet the needs of customers and ultimately increase the loyalty of customers in the restaurant industry of Pakistan.
This survey is conducted by Maryam Iqbal in Dec-2021.
More about Ban on entrance to Murree and Galiat continues to prevent slippery incidents
Blogs
Featured