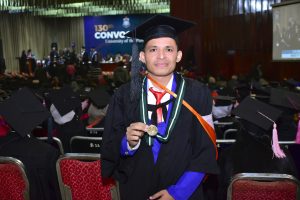 Pakistan is a region being home to different civilizations. People having different identities like Punjabi, Afghani, Pashtoon, Baloch and Sindhi etc live here. They have their own culture and traditions. Not only ethnic but it also has religious diversity too. Not only Muslims, a large number of Sikhs, Christians, Hindus, and Buddhists also live here. They follow their religion freely and enjoy all the perks and privileges granted to the Muslim majority. Followers of these religious minorities have many holy places here. These holy sites attract tourists and followers of these religions from all over the world.
Hindus are the 1st major religious minority living in Pakistan. They own a large number of temples in Sindh. The most visited Hindu temple is Shri Hinglaj Mata Temple or Nani Mandir. Almost, a number of total 2.5 lac Hindu pilgrims visit the temple at the occasion of Hinglaj Yatra.
Sharda Peeth is also a beautiful temple located in Azad Kashmir just 10 kilometer away from the line of control. It is believed that goddess Sati's remains fell here. Hindu pilgrims consider it a blessing to visit this holy place.
Another beautiful temple named Katas Raj is also located at Chakwal, Pakistan. It not only attracts Hindu pilgrims but tourists belonging to other religions also visit here. Lord Shiva is worshipped here.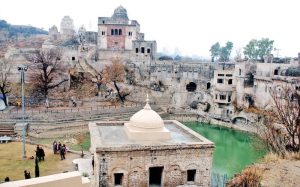 Besides these, there are also many other holy temples in Pakistan. They have their own historical importance. The names include Shri Panchmukhi Hanuman Mandir, Manshera Shiv Temple and Umarkot Shiv Mandir etc.
The 2nd largest non-Muslim community in Pakistan is Christian community. They also own many holy Churches in Pakistan.  These include St. Patrick's Cathedral, Karachi, St. Paul's Church, Rawalpindi, St. Mary's Cathedral, Multan and Sacred Heart Cathedral, Lahore.
Another important and holy destination for Christians in Pakistan is Maryam Abad. It is located in Khanqah Dogran, Sheikhupra at the distance of 80 Kilometers from Lahore. Annually more than 10 million Christians from all over the world come to visit the place. Here, the birthday of Christian's holy personality Bibi Maryam is celebrated on September 8 of every year.
Sikh community also resides in a large number in Pakistan. The holiest place for Sikhs all over the world is Gurdwara Janam Asthan Nankana Sahib. Located at the distance of almost 77 KM from Lahore, this is the place where Baba Guru Nanak, the founder of Sikh religion was borne.
Last year, on November 20, 2021, at the 552th birthday celebrations of Baba Guru Nanak, a number of total 8,000 Sikhs from all over the world visited Nankana Sahib. They also included 3,000 Sikhs from India. Pakistani High Commission in India has relaxed and made faster the visa policy for religious tourists. At Baba Guru Nanak's birthday, not only Sikhs but many Hindus also visited this place with religious sentiments because Guru Nanak was equally popular not only in Sikhs but among Hindus and Muslims too.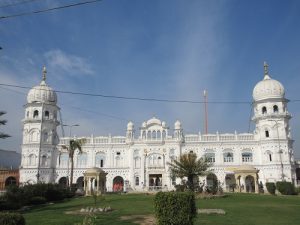 Besides Gurdwara Janam Asthan Nankana Sahib, there are also many other holy sites and historical gurdwaras of Sikh community in Pakistan. Gurdwara Panja Sahib in Hasan Abdal is also visited by thousands of Sikhs. Gurdwara Sacha Soda in Farooq Abad, Sheikhupura, Punjab has its own religious and historical importance.
Former Pakistani prime minister Imran Khan in his tenure opened Kartar Pur Corridor for Sikh tourists. It has also caused an increase in religious tourism and made the Sikh community happier. Kartar Pur Gurdwara is the place where Baba Guru Nanak spent last days of his life. This place has a huge tourist attraction not for Sikhs but the believers of other religions too.
Another religious minority living in Pakistan is the followers of Buddhism. The Buddhists also have many historical and religious sites in Pakistan. These sites attract thousands of tourists from all over the world. There are more than 500 million Buddhists in the world.
For the followers of this religion, the regions of Pakistan including Mardan, Taxila and Swat have a real charm. The reason is that it is through these places, the Korean Buddhists find their religious traces.
The Korean monk Hyecho visited these places more than 1,300 years ago. Other Buddhist holy sites in Pakistan are Dharmarajika Stupa, Sleeping Buddha, Takht-i-Bhai, Stupa of Mankiala, and Gandhara civilization.
Recently, a 48-foot-long Buddha has been discovered at Haripur. It is considered the oldest sleeping Buddha statue in history. For these reasons, these places attract more than 50 million Buddhists from Korea, China and Japan. In recent years, Pakistan has witnessed an increase in the number of Buddhist pilgrims from Japan, Korea, Hong Kong, China and Sri Lanka visiting these places.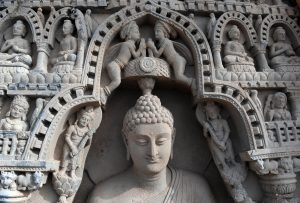 It is important to mention here that Pakistan being home to thousands of Buddhists, and millions of people belonging to religions other than Islam, guarantees all the rights, freedom and privileges that the Muslims enjoy who are majority here.
Pakistan knows how to respect other religions and recognizes the need for religious freedom. The followers of every religion can follow and propagate their religion.
Except all these religions, Pakistan has also many religious sites for the Muslim majority. Not only local Muslims, but many foreign Muslims especially from India, Bangladesh, and Afghanistan visit these places. Holy sites for Muslims in Pakistan are Badshahi Masjid Lahore, Faisal Masjid Islamabad, Abdullah Shah Ghazi Shrine Karachi, Darbar Baba Fareed, Darbar Sultan Bahu, Bari Imam Sarkar Shrine, and the shrine of Laal Shahbaz Qalandar in Sindh.
The Pakistan Tourism Development Corporation (PTDC) is working with full potential to promote tourism in Pakistan. It is fortunate that religious tourism cannot stop and is less affected by economic fall because the motive behind religious tourism is very robust and money does not play much more role in it. These are the sentiments which compel the pilgrims to move to these religious sites. All that we need is to take full advantage of these holy sites; it will not only boost our economy but also create a positive image of Pakistan resulting in achieving our national interests.
The writer is a Lahore based freelance journalist. He tweets at @shareef381.
Blogs
Featured